Past Performance Evaluation (PPE)
A Past Performance Evaluation has been independently conducted among twenty (20) selected Hamilton & Bond customers by Open Ratings, Inc., a division of Dunn & Bradstreet. The goal of this PPE was to provide Government buyers with a predictive behavior model for Hamilton & Bond.

Here are key feedback results where 0% equals lowest feedback and 100% equals perfect feedback: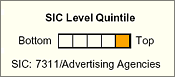 Reliability - 100%
Order Accuracy - 100%
Delivery/Timeliness - 100%
Quality - 100%
Responsiveness - 100%
View Complete Open Ratings PPE Report. This document is in a portable document format (PDF) which can be viewed and printed with the free Adobe Acrobat Reader software.