Capabilities
GS-023F-0042N
GS-023F-0043N


Simplified Acquisition, Small Business, Experienced Staff, Great Past Performance
Hamilton & Bond Advertising, Inc. can provide micro-purchase, simplified acquisition, full and open competition solutions to your advertising and marketing requirement.

Senior Staff Overview
Stanton Bond, President
B.S. Degree in Mass Communications, Double Minors: English, Psychology
Southern Illinois University at Carbondale
Graduate Instructor - Interpersonal Communications
Employed continuously in communications capacity since 1970, responsibilities including Public Information, Direct Mail, Press Relations and Publicity, Advertising, Marketing Communications and Planning.

Previous employers include City of Carbondale, IL, Marsteller/Burson-Marsteller, American Lung Association, Ladd/Wells Advertising. Founded Hamilton & Bond in 1984.

Stan is Past President of the Business Marketing Association of Chicago. He is the recipient of their 2002 Proud Award for distinguished service. BMA Certified Business Communicator (CBC) Since 1985. Stan has been invited to serve as Competition Judge for Clio Awards, Addy Awards, Pro-Comm Awards and Tower Awards.

Marion Bond, Vice-President
B.S. Degree - Psychology, Drake University, Minor in Journalism and Graphic Arts. 24 Years Professional Communications Experience. As one of the founders of Hamilton & Bond, Inc. she has been instrumental in developing agency procedures while overseeing all administrative functions of the agency since its inception in 1984. Outstanding Young Women of America 1987

Company Capabilites
2-page View our Capabilities Statement (PDF) Here.
View our Streaming Movie (Portfolio Examples)
View our listings on GSAAdvantage!

Our company offers more than 30 years of experience including brochures, exhibits and kiosks, websites, CD-ROM's, event management, public relations, speechwriting, typesetting and more for nationally known commercial and government customers.

• Our work has earned 67 advertising and creative awards,
• Our ability to precisely follow instructions is reflected in our 100% Perfect Past Performance Evaluation scores for: Reliability, Order Accuracy, Timeliness, Quality and Responsiveness. Here are key feedback results where 0% equals lowest feedback and 100% equals perfect feedback: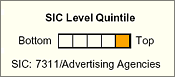 Reliability - 100%
Order Accuracy - 100%
Delivery/Timeliness - 100%
Quality - 100%
Responsiveness - 100%
• Our company specializes in high technology communications including website design and hosting, e-marketing, online video, podcasting.
• We are comfortable with technical, detail-oriented assignments which require accuracy, precision and initiative.